This week, being National Volunteers Week, we have celebrated the fantastic contribution that our volunteers make to our digital inclusion programmes.  We acknowledge the six volunteers who provide digital literacy support each week at three Wellington City Council housing apartment complexes – Hanson Court (Caroline and Ben), Central Park (Sanita, Sandi and Ankita) and Newtown Park (Kayla and Chinthanka). We also acknowledge the support provided by Jim who keeps all the computer equipment in our training hubs up to date as well as the software on all equipment provided to programme participants.  And we acknowledge two of  our DIAA team members (Shelley and Eleanor), who support our volunteers and plug the gaps when one of the tutors is unable to attend.  Here are their stories about what they do and why they do it.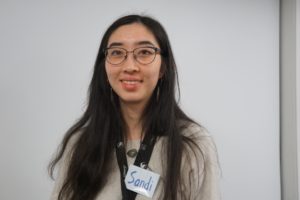 Sandi was motivated to volunteer for Digital Inclusion Alliance at the Central Park Community hub because it is a great way to get to know more people. She volunteers to help others, it is not a direct benefit to her. It's a contrast to her day job as a data and research analyst at MBIE. Sandi knows that volunteering is very worthwhile. She values the time taken by the people who genuinely want to learn. She says it makes her happy to see people really working hard to achieve each module, and she is thrilled when they receive a reconditioned laptop. "It is an acknowledgement that all their hard work has paid off." The students who attend the classes can have little or no working knowledge of the internet. The requirement to set up an email account and know what is safe, and what is not, is part of the learning process. The volunteers work through a series of modules with the people, each covering a different part of an online presence.  Sandi says, "Really, it is about a good benefit and a good outcome." She thinks the digital license is the best all round module. It covers digital safety in the digital world. She says, "The internet is all around us, and people have to understand that some websites are scams. They are not a good place to enter your credit card details."  She is looking forward to supporting people when they complete the online banking and online job modules. "It is cool to see people growing that way."  Sandi says, the internet is a foundational thing. What we do in the community hub is to help elevate people, and enable them to learn new skills that can take them into the digital world. "I want them to be safe online, and be able to do what they want to do."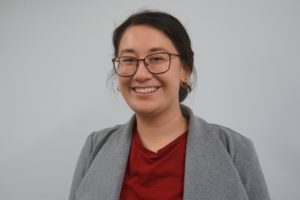 Sanita started volunteering for Digital Inclusion Alliance Central Park Community hub while she was looking for a job. She saw an advertisement on Seek and thought it would be a perfect fit. As a university student, she had worked at Trade Me in customer support. She says, "I was used to talking to people over the phone and thought it was a natural progression to help them face-to-face." The skills she had learned at Trade Me were very transferable to the digital inclusion environment. She was used to supporting and talking people through problems and being clear about understanding and delivering instructions. Mostly, she says, "I felt I could positively support people to learn new skills and introduce them to the digital world." Volunteering is different from her full-time analyst and consulting position at Deloittes. Instead of collecting and analysing information, she is making digital technology more approachable for people. Sanita really enjoys getting to know the people who come to the community hub and helping them build those new skill sets. She also enjoys helping them practice their new-found expertise and further develop their digital literacy. It is a great thrill for her to see people passing the prescribed threshold of achievement and being presented with the reconditioned laptop. She says, "People are shocked in a really good way when they hold their very own laptop." Her favourite module is the digital licence, she says, the module is quite cool and well set out with interactive sections. "People can go through and decide the order they want to learn the modules in which is great because they can concentrate on the topics that interest them."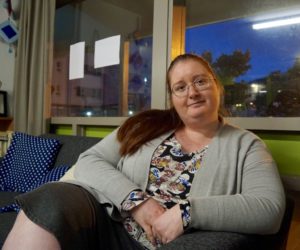 Caroline volunteers at the Hanson Courts community hub for a few hours each week. Her day job is working for a busy government department. Last year she decided she wanted to give some of her time to support others. She went onto the Wellington City Council Volunteer website and found the Digital Inclusion Alliance Aotearoa link. Volunteering takes one hour out of Caroline's working week. She uses it to support those who are keen to learn but don't always have the equipment or knowledge to scale the digital wall. She says she has a good life, with a supportive family and great friends. Even though she doesn't need support herself, she recognises that if things had been different and she needed help, she is pleased some people would help. She says, "It doesn't cost you much, just a few hours a week, and the difference you make is measurable." The highlight for Caroline is that people come back, sometimes week after week and for others, it may be less frequent. They learn about computers, and it opens up their world to diverse channels of information. In particular, the freedom of online banking. She says, "Learning the computer skills to do this is life-changing." It takes so much stress out of peoples lives. They can pay their bills from the comfort and security of their own homes, in their own time. She has enjoyed the difference knowledge has made to the people who attend the sessions. First, they come to learn what it is all about, and then they come back with specific questions. She says, "I learn as well, I am not an expert, but I can use a computer. Part of volunteering is just being there. No one knows everything. People do things differently." Caroline's family live in Auckland and in some ways the role she undertakes in Wellington mirrors the role her father is doing in Auckland. He is retired and volunteers for Age Concern. It is a way of keeping the family ties strong through volunteering.
Ben was first told about Digital Inclusion Alliance Aotearoa by his support person at Community Connections. He has always had an interest in computers, and his caseworker suggested that he contact them to talk about volunteering at the Wellington City housing apartments. When he first joined the volunteer team at the Hanson Courts community hub, it took him about half the session to find his feet. Once he worked out what he needed to know, he says, "I was on my way." He is always impressed by how people come in determined to learn. They get a computer as part of the course and then they can tap into a much bigger digital world. Ben's greatest pleasure is when someone has difficulties or is stuck on a module question. He says, "We crack the question together, and then I watch them blaze though the rest of the questions." It gives him great satisfaction to help them get over that hurdle. Ben enjoys learning as much as the people he supports. He has had a few years of broken employment because of his fibromyalgia, but it hasn't stopped him participating in the community. He is keen to support those less fortunate than himself and continue to develop his skills. Ben sees volunteering as a way of helping others and proving to an employer that he is ready to work, capable and keen to learn new skills.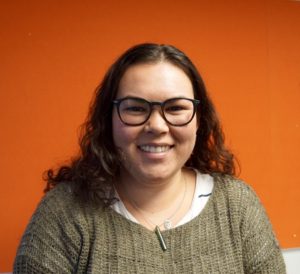 Kayla volunteers at the Newton Park Apartments community hub. She first volunteered when she was at school and continued while studying at University. When she started working, volunteering was put aside until the Covid19 lockdown. Kayla realised that the working environment wasn't really connected to the volunteering world. She says it is easy to volunteer when you are at school and uni. There are posters and volunteer programmes advertised everywhere, its once you start working, it stops being front of mind. The lockdown gave her time to think about volunteering. She found the Digital Inclusion Alliance initiative advertised through Seek and she now volunteers at the Newtown hub. Her main highlight is that she can spend a lot of time with one person, and get to know them and what they are interested in. She is thrilled they come back every week to continue their digital education journey. She says, "It is really rewarding, you can immediately see the value of what we are doing." It has been an excellent opportunity for her to hone her communication and patience skills and to contribute to increasing people's knowledge in a way that is natural to her and that others can understand. The online banking module is dear to Kayla's heart because she works for the ANZ. She has seen first-hand how people can be tricked and scammed.  She knows that the banks are building online banking platforms with its diverse customers in mind, but nothing beats teaching people face-to-face how to be safe online.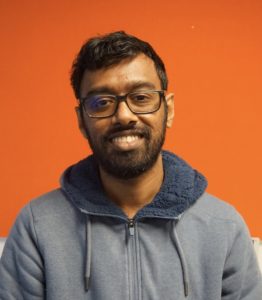 Chinthaka is studying for his Masters in IT at Wellington Institute of Technology. The post-graduate course is online, and he can manage his day around assignments and volunteering. He found the opportunity to support the Digital Inclusion Alliance through Seek and knew that the position was perfect. He is motivated to help people learn the ins-and-outs of the internet because it is an excellent opportunity to engage with different people and teach them the basics of IT. He recognises that for someone learning the basics of the internet is as difficult as doing a complex project. He says, "The internet is very challenging for those who know nothing about it. We have layers and layers of knowledge that helps us understand the next step." For people who have never been exposed to the internet, it can be a very challenging mountain to climb. Chinthaka enjoys helping people get to the next level and give them practical experiences so they can use the internet in day-to-day life. By giving them information and teaching them how to search, they become more aware of what is available. He says, exploring the internet is a fun thing to do in your spare time and it also helps people with loneliness because they can find others with similar interests, join groups and connect with family. One of the most significant advantages for Chinthaka is that he can meet and support people of all ages. He says, "It is hard to meet older people outside your own family." By volunteering at Digital Inclusion, he can assist people of all ages.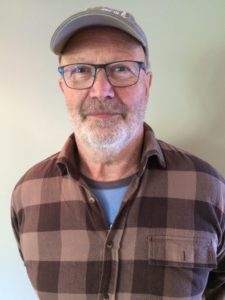 Jim has been volunteering with DIAA for the last 18 months, tutoring residents at Central Park Apartments in 2019 and providing technical support for the computer training pods as well as for equipment donated to programme participants.  Jim is a volunteer extraordinary for the Digital Alliance. Originally, he was the person putting up the signs in the mailrooms and distributing flyers. Then he reconditioned computers and helped people out with their Jump connection. He says initially, the system was complex and he made a few mistakes but got there in the end. He has helped some of the tenants become digitally aware and sat in on the Stepping UP courses. Jim says he has a basic level of computer literacy, and now he is retired the time to hone his skill set. Most importantly, he knows where to look for information, and if he doesn't know where to look, he knows whom to ask. Jim gets great pleasure in knowing how to set up Jump for people. "I enjoy helping them, although sometimes it was like the blind leading the blind. Other times I was blown away by their level of literacy." He is quite comfortable with online security and doesn't think people are too worried. The digital licence encourages people to overcome some of their concerns. He says that if he comes across someone who is a little apprehensive, he can work them through their anxieties. Jim enjoys helping people and says the opportunity to receive a free laptop when you attend digital wellbeing classes is a great lure. He is a dab-hand at preparing them for their new owners, making sure the battery can take a charge, and the computer has the correct updates. Jim initially volunteered for the 20/20 Trust, and fondly remembers taking his nine-year-old son along because he was very enthusiastic about it all. He is an old hand at helping people; before he retired he was in pest management.
Please follow and like us: